Collages Capture The Images of Sea Life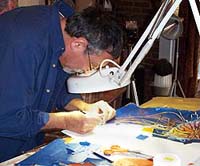 The original works of the Japanese Sea Nettle, Red Sea Horse, Caribbean Lobster and Long Spine Big Eye Squirrelfish were created using colored tissue paper.
Here the artist layered and glued various colors of tissue paper, in effect creating a collage, to achieve the desired colors, shades, texture and transparency that captures the images of these remarkable sea creatures.
The artist accomplished these stunning works of art by making small precise cuts in the tissue paper and layering the papers individually to capture the rich colors and fresh brightness giving the viewer the impression the creatures are alive.
High quality prints of each of these sea creatures are available from the artist, reproduced by Gicleee printing process on archival paper.
Contact the artist for information and to order your prints, now available as a gift set of four, as well as individual prints. •